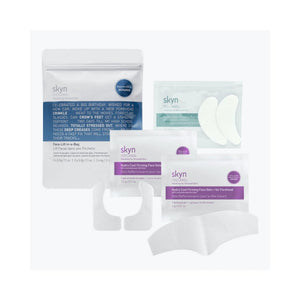 FACE LIFT IN A BAG
3.990 kr

3.990 kr
Verð með vsk.
---
---
Gel fyrir allt andlitið. Í settinu fylgja tvö pör af augngelum og andlitsgelum. Áhrifarík meðferð fyrir þreytta húð. 
Face-lift in a Bag

A weekly treatment to turn back the clock. Eyes look well rested, wrinkles are smoothed and smile lines are erased.
Face-Lift in-a-Bag contains everything you need to launch a full scale attack on fine lines and wrinkles. From forehead furrows and crow's feet to deep creases and smile lines, it is designed to mimic the most sought-after injectables. Hydro Cool Firming Face Gels flood skin with a concentrated dose of line-plumping, skin-smoothing, face-lifting ingredients, visibly filling in lines for up to 24 hours. Hydro Cool Firming Eye Gels work intensively to help firm, de-puff and minimize dark circles in the under-eye area.
Organic tomato callus stem cell extract is a soothing, hydrating, anti-oxidant rich extract, extremely high in lycopene, a powerful antioxidant shown to prevent oxidative damage and improve skin's ability to protect itself against harmful UV rays. [FOREHEAD PATCH ONLY] Hydrolyzed extensin helps skin cells lock in moisture, instantly plumping fine lines and wrinkles and helping to restore tone and firmness.
Hydrolyzed elastin helps restore tone and firmness to under-eye area
Ginseng callus stem cell extract revitalizes skin with a brightening, antioxidant effect, reduces free-radicals, and improves collagen production. [SMILE LINE PATCH ONLY] Ginkgo biloba leaf extract improves blood flow to brighten the under-eye area and help reduce puffiness.
Copper tripeptide-1 activates the skin's natural renewal system, jumpstarting collagen production and keeping cell turnover speedy, while contributing to improved skin tone, texture and firmness.
Coenzyme Q10, a powerful antioxidant, fights free radicals which lead to premature aging
Acetyl hexapeptide-8 helps reduce the appearance of fine lines and wrinkles by calming muscles under the skin
Icelandic Complex, a proprietary natural blend that replenishes the nutrients that stress depletes. Sourced from Iceland's pure and potent environment, it contains pollution-free Icelandic Glacial Wat