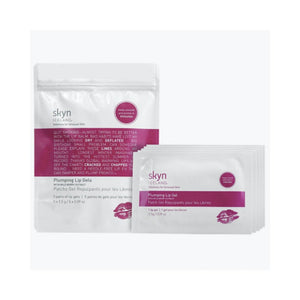 PLUMING LIP GEL 4 PACK
4.990 kr

4.990 kr
Verð með vsk.
---
---
Varagel sem fyllir upp í fínar línur og hrukkur í kringum munninn, gerir varirnar þrústnari og gefur þeim mikinn raka. 
Plumping Lip Gels 4 pack
With Wild Berry Extract.

A 10-minute, plumping gel patch designed to improve the look, fullness and overall health of thinning lips weakened and worn by stress induced aging and environmental stressors
Plumping Lip Gels help breathe new life into lips by tackling three big concerns–loss of fullness, lines and wrinkles around the mouth, and depleted moisture levels–all in 10 minutes flat. Boasting a powerhouse of highly-advanced plant and marine-based actives, plus a state-of-the-art, transdermal delivery system, the convenient gel patch stays put, allowing ingredients to penetrate deep into the skin. Results are immediate and transformative–volume is restored, vertical lines are blurred, and lips look healthy, hydrated and more youthful.
Wintered Red Algae (Chondrus Crispus Extract) is a mineral-rich skin conditioner that provides immediate and long-lasting hydration, restores lost moisture and leaves lips soft and lush.
Wild Berry Extract is a natural extract blend of berries provides a subtle fruity flavor.
Swertia Chirata Extract, native to the high-altitude hills of the Himalayas this healing, is naturally anti-microbial botanical blurs the appearance of vertical wrinkles around the mouth.
Mustard Sprout Extract is a purified extract of organic mustard sprouts that causes lips to plump by boosting circulation, while improving hydration, attacking wrinkles and restoring overall suppleness.
Icelandic Complex, a proprietary natural blend that replenishes the nutrients that stress depletes. Sourced from Iceland's pure and potent environment, it contains pollution-free Icelandic Glacial Water with 6 essential minerals to hydrate and detoxify skin, Arctic Cloudberry and Cranberry Seed Oils "super fruits of the Arctic" rich in Omega Fatty Acids, Vitamins and potent antioxidants as well as Pure Molecular Oxygen which delivers energy into skin's deepest layers to bring back a youthful glow.
2 Lip Gels